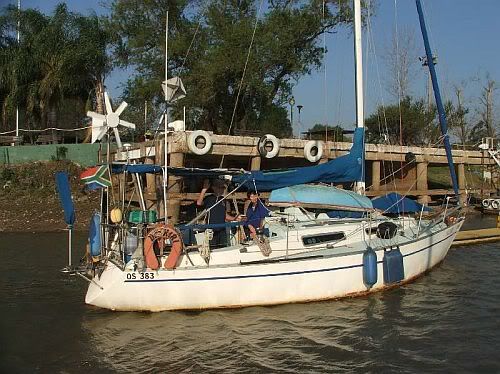 Photo: Yacht Dalkiri
A radio amateur living in Bushmans River in the Eastern Cape was once again involved in assisting a yacht in distress. On 1 May, 2009, Graham Griggs ZS2ABK, was busy on the South African Maritime Net when he picked up a MAYDAY call from the yacht Dalkiri. The Dalkiri was on its homeward journey to South Africa from Santa Catarina in Brazil when it was caught in a violent storm on 30 Apr 2009.
The yacht had an underwater leak which they could not find and were unable to effect repairs. The leak was serious and they required rescue. Graham notified the Maritime Rescue Co-ordinating Centre in Cape Town but as the yacht was in Brazilian waters the information was passed on to MRCC Brazil who sent out a naval frigate, "Bosisio", with a helicopter aboard. On 1 May, a severe cold front arrived in the area resulting in waves of up to 8m, and winds up to 40 knots (72 km/h). Three merchant ships were requested to help in the search effort, but prevailing sea conditions would not allow for their immediate departure. The merchant ships reached the scene before the frigate and stood by until the helicopter was able to lift them off at 16h05 UTC on Tuesday, 5 May 2009. Both survivors, Jess and Heather are well and in good spirits aboard the "Bosisio" and their families have been notified. Unfortunately the sinking Dalkiri had to be left behind. There is no further information regarding their yacht. Graham would like to give credit and thanks to all the personnel at Maritime Rescue Co-ordinating Centre in Cape Town for their efficient work in effecting the safe rescue for Jess and Heather.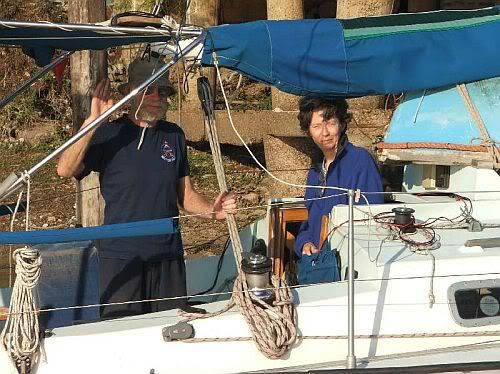 Photo: Crew of Dalkiri, Heather and Jess
SAWDIS - Once again amateur radio were involved in a rescue mission. Although Graham ZS2ABK is very modest regarding the part he played in the rescue, we must bare in mind that he picked up the distress call via amateur radio and contacted the MRCC in Cape Town. This is not the first time that Graham was involve in a maritime rescue mission. He also assisted with daily radio communications in search for Jure Sterk
that went missing aboard the yacht "Lunatic" in January 2009. Graham ZS2ABK is commended for his roll in assisting maritime vessels on a daily basis. Graham is a member of the SA Maritime Mobile Net.
Photo: Graham ZS2ABK in his radio room.
The South African Maritime Net operates 7 days a week, and provides weather reports from around the coast, and maintains contact with boats and yachts off the coast of South Africa and up into the Mozambique channel. There are two regular schedule times as follows:
06:30 UTC: Starts on 14316 kHz for 5-10 minutes, and then moves to 7045 kHz.

11:30 UTC: Starts on 14316 kHz for approx. 30 mins and then moves down to 7045 kHz.